Most people rely on apps on their smartphones to pass time, but your iPhone or Android wasn't built for gaming.  Benefits are that most of them are free, but on the other hand, they are loaded with ads, which are not appropriate for the kids.
On the other hand, pocket consoles have better battery life, actual buttons, and tons of games that can keep you and your family occupied for hours.
The first Nintendo pocket console that I received as a boy is the Game Boy. As a kid, it was a revolution for me. I enjoyed playing games like Tetris, Prince of Persia and the Super Mario World.
I know there are a lot of pocket consoles on the market, but in these series of articles, we will focus only on Nintendo pocket consoles. In the first part, we will cover only Nintendo pocket consoles related to Gameboy and Gameboy Advance family and in the second part Nintendo DS family consoles.
Many people think that the Gameboy was a first Nintendo pocket console, but actually, Game & Watch console was first.

It was a series of handhelds that only played a single game, and had either a clock, an alarm or in some cases, both. There were no cartridges or other games to download. You bought a single game and stuck to it.
Here are all the best handheld Nintendo game pocket consoles that are worth considering to keep you entertained on the go.
Gameboy Family Consoles
Nintendo's Game Boy handheld was first released in 1989 and was designed by long-time Nintendo employee Gunpei Yoko, which was also responsible for the Game & Watch series.
In the following years, Nintendo carved a niche for itself by being the quirky console manufacturer and provided us with some of the most iconic games consoles and not to mention some of the greatest games franchises of all time.
Game Boy
I loved the Nintendo Game Boy from the first day I got it. It combined features of the first handheld with swappable cartridges like the NES to create one of the best selling consoles ever.
Games were 8-bit black-and-white, played on a black and green reflective LCD screen.  I know it seems very odd to know to play black and white games, but when I was a kid it was a revolutionary experience for me.
The system had a red LED which showed the remaining power and you could play games over 30 hours on its required 4 AA batteries.
What I liked a most is an eight-way directional pad, two action buttons (A and B), and Start and Select buttons.
It cost around $90 when it was launched and came bundled with a copy of Tetris, highly regarded as the game that helped the mammoth sales. Nintendo also made a range of accessories for the Game Boy, including a printer and magnifying screen with a built-in light.
Sales of the Game Boy and Game Boy Color (released in 1998) are estimated at around 120 million units worldwide.
Released: Japan on April 21, 1989
Variations: red, yellow, green, black and clear
Favourite Games:  Tetris, F-1 Race, Super Mario Land, Metroid II, Kid Dracula, Pokémon Red / Blue / Yellow, Donkey Kong '94, The Legend of Zelda: Link's Awakening, Prince of Persia, The Addams Family
Game Boy Pocket
The Game Boy Pocket is a redesigned version of the original Game Boy having the same features. It is similar to the Game Boy but this variation is smaller and lighter with a monochrome screen rather than the original green-tinted display. It improved response time for less blurring during motion.
It takes two AAA batteries as opposed to four AA batteries for roughly ten hours of gameplay. The first model of the Game Boy Pocket did not have an LED to show battery levels, but the feature was added due to public demand
Released: 1996
Variations: red, yellow, green, black, clear, silver, blue, and pink.
Game Boy Light
Game Boy Light is variant of the  Game Boy Pocket and was exclusively released in Japan. The differences between the original Game Boy Pocket and the Game Boy Light is that the Game Boy Light takes on two AA batteries rather than two AAA batteries and featured an electroluminescent screen for playing in the dark.
Released: 1998
Variations: silver, gold, yellow for the Pokémon edition, translucent yellow, clear and translucent red for the Astro Boy edition
Game Boy Color
The Game Boy Color (abbreviated as GBCS) is similar to the Game Boy, but with colour graphics. It also had many technical enhancements, including a more powerful processor (double the processor speed), three times as much memory and an infrared wireless link-up port.
Like the Game Boy Light, the Game Boy Color takes on two AA batteries. It was the final handheld to have 8-bit graphics.
One of the major flaws for me is that there is no backlight on the screen.
A major component of the Game Boy Color is that a Game Boy Color is able to read older Game Boy cartridges and even play them in a selectable colour palette. When I run my old Tetris I was so delighted and seemed like I am playing it for the first time.
Released: Japan on October 21, 1998
Variations: atomic purple, purple (clear purple), berry, dandelion (yellow),  grape (blue), kiwi (green), teal
Favourite Games: The Legend Of Zelda: Link's Awakening DX, Pokémon Gold/Silver, Metal Gear: Ghost Babel, Tetris DX, R-Type DX, Wario Land 3, Survival Kids, Resident Evil Gaiden, The Legend Of Zelda: Oracle Of Seasons/Ages
Game Boy Advance family
Game Boy Advance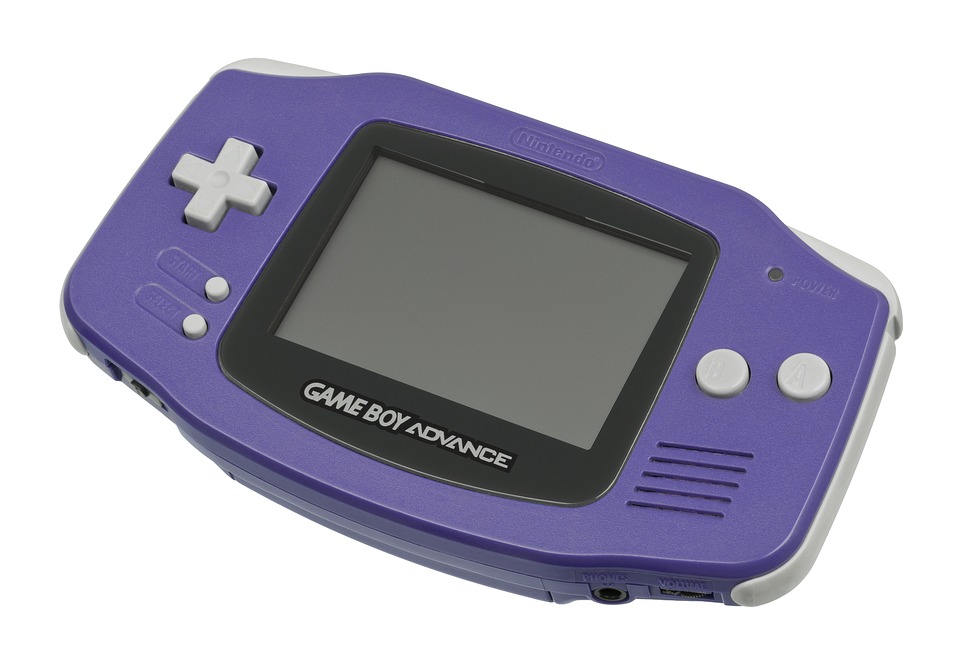 The Game Boy Advance  (also referred to as GBA) was a significant upgrade to the Game Boy line with a new handheld shape, shoulder buttons, better graphics and wider range of colours available to developers.
Controls were slightly modified with the addition of "L" and "R" shoulder buttons. Like the Game Boy Light and Game Boy Color, the Game Boy Advance takes on two AA batteries.
A widely criticized drawback of the Game Boy Advance is that the screen is not backlit, making viewing difficult in some conditions. When playing older games, the GBA provides the option to play the game at the standard equal square resolution of the original screen or the option to stretch it over the wider GBA screen.
Released: Japan on March 21, 2001
Variations: Clear purple, purple, red, blue, green, yellow and silver for the Pokémon Edition
Favourite Games: Mario Kart: Super Circuit, F-Zero: Maximum Velocity, Wario Land 4, Mario & Luigi: Superstar Saga
Game Boy Advance SP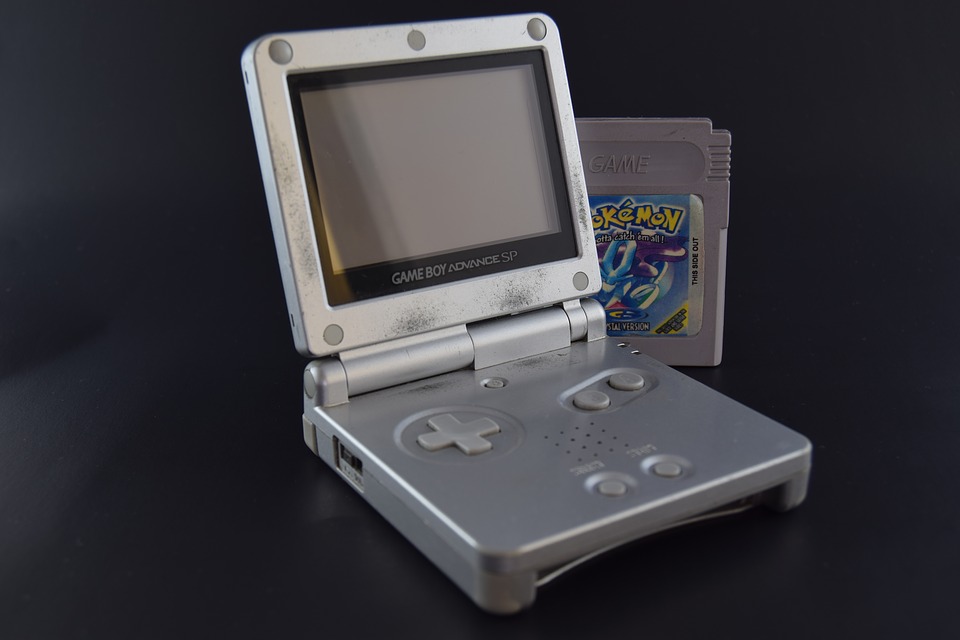 The Game Boy Advance SP resolved several problems with the original Game Boy Advance model. It was the first Game Boy to have a clamshell design with a flip-up screen much like the Nintendo DS.
It also featured a switchable internal front light, a rechargeable battery for the first time, better graphics and a front-lit screen which could be turned on or off (the model AGS-001). The only notable issue that I can remember is the omission of the headphone jack.
The system's game compatibility is identical to the Game Boy Advance's and it was the final Game Boy to have backwards compatibility with Game Boy and Game Boy Color games.
Released: Japan on February 14, 2003
Variations: platinum, Tribal, cobalt, emerald, flame red, onyx, pearl blue, pearl pink, platinum/onyx, Mario vs Donkey Kong, graphite, pearl green
Game Boy Micro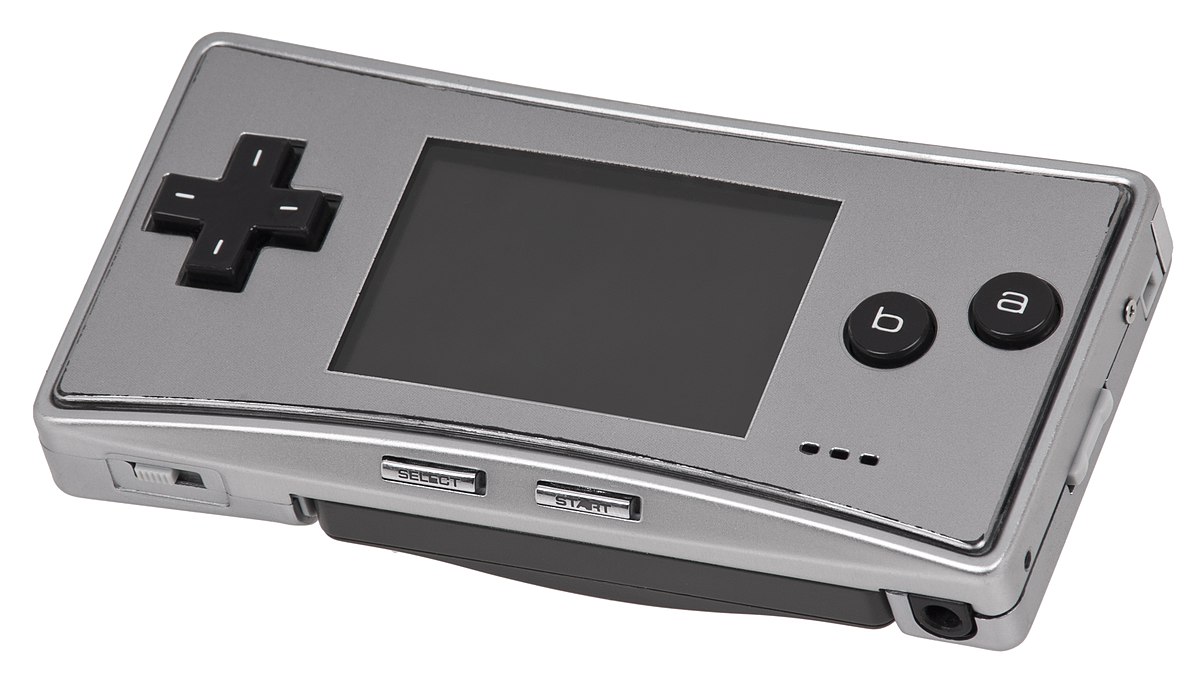 The third form of the Game Boy Advance system and was the smallest handheld ever released. The Game Boy Micro is by far the smallest Game Boy created. It featured a lack of backwards compatibility, only able to play Game Boy Advance titles.
Its screen is approximately 2/3 the size of the SP and GBA screens while maintaining the same resolution (240×160 pixels) but now has a higher quality backlit display with adjustable brightness.
Released: November 21, 2004
Variations: pink, silver, black, blue, green, pearl blue, purple, red
In this article, we covered only Nintendo pocket consoles. Like mentioned before we skipped a few like Game & Watch console. In the next article, we will cover the Nintendo DS family portable consoles.
If you find out more about Nintendo video game consoles read our previous article.
Happy gaming from BizzNerd team.