Crypto.com is a result of a well crafted rebranding of a start up that was founded in June of 2016 under the name, Monaco Technologies GmbH. The company successfully raised over $26 million USD through the ICO launch of its native Monaco Coin. Should sound familiar to some.
The operation was subsequently rebranded after the acquisition of the Crypto.com domain name, which had been registered in 1993 by renowned cryptographer, Matt Blaze.
With a name and a new goal – to accelerate the transition to full scale cryptocurrency use – the start-up set forth to make its mark on the industry, with a sleuth of goodies available on the offered on platform.
Crypto.com  CRO Platform Overview
The Crypto.com platform was conceptualized and designed to take on some of the issues seen as being the most significant stumbling blocks on the way towards mainstream cryptocurrency adoption. These – as the platform sees it – are, accessibility and the good old ease of use that the traditional finance sector has gotten most of us used too.
To tackle the aforementioned issues, Crypto.com offers the end user a plethora of products. These are, a cryptocurrency wallet, a prepaid card powered by VISA, an investing service, a credit service, and a service where the user can earn cryptocurrency. All interlinked through the platforms two native tokens, MCO and CRO.

Registration
Download your app from Google Play or App Store. Afterwards, fill out a simple registration form. If you use below code during sign up process – we both can get $25.
9pq7gq9npu
However let me warn you. You will see $25 worth of CRO token in your wallet, but you will not be able to use it until you purchase at least 2500 CRO and hold them for six months. At moment of writing of this article 1 CRO costs around 0.0794.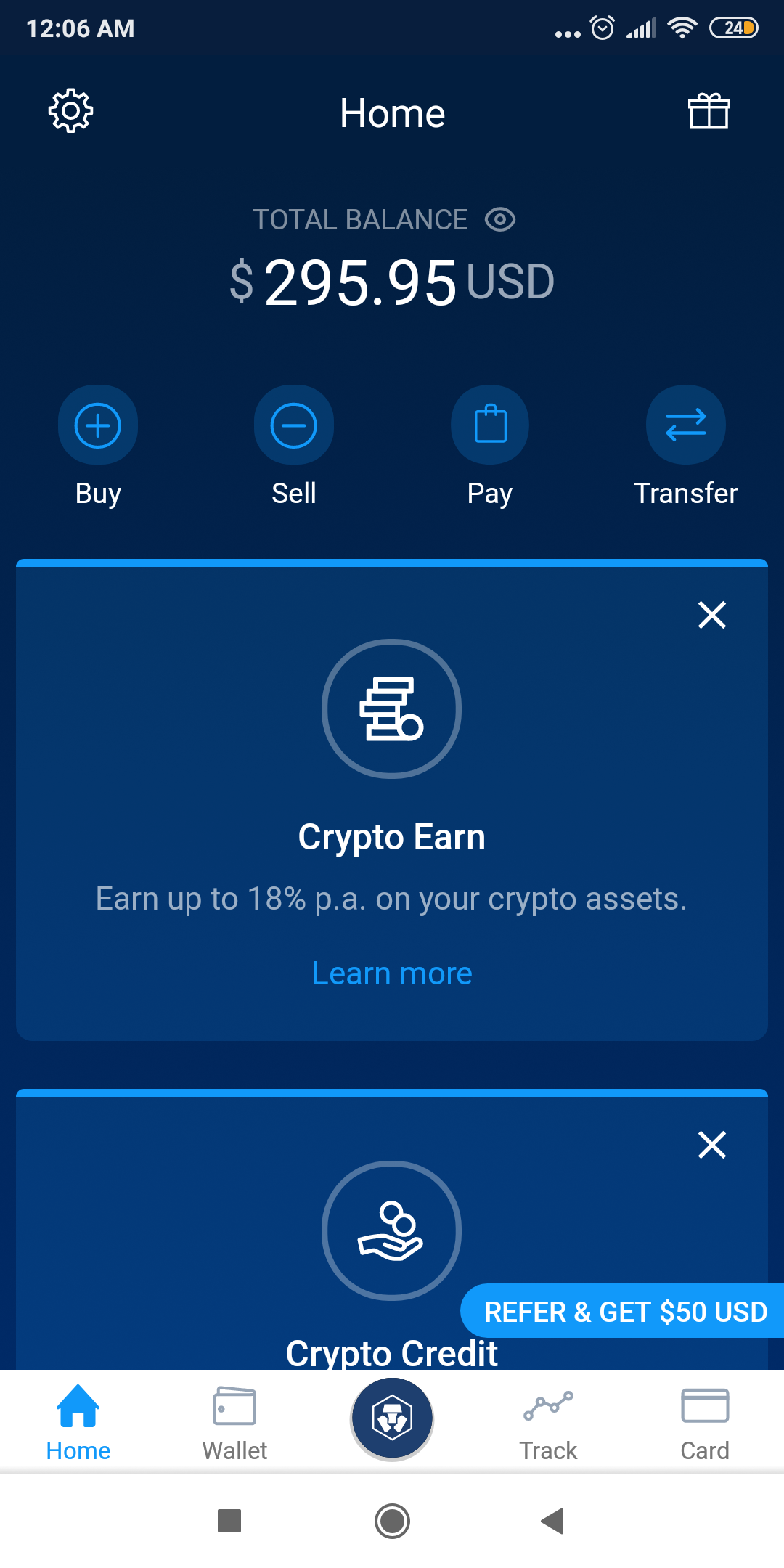 The Wallet Service
First things first. The wallet service here is quite the same as wallet services offered by other platforms. It serves as a convenient place to purchase, store, sell, send, and keep track of your digital holdings. More specifically, the user can choose from more than 50 cryptocurrencies and buy with seven supported fiat currencies.
A VISA Powered Debit Card
This is possibly the most exciting of all. The MCO visa card was first announced to the world during November of 2018. A partnership between Crypto.com and Metropolitan Commercial Bank (MCB), that offers the user a means to spend cryptocurrency anywhere that accepts VISA card payments. That would mean more or less anywhere.
There are 6 colour coded card types on offer. With each tier affording the is own "level" of added benefits. These include cash back on a Netflix subscription played for by the card. As you may have guessed, the higher up you go , the more you'll have to put in to get it started, this comes in the form of a required purchase of a certain amount of MCO, and holding it for a period of no less than six months.
Card Type Staking Fee MCO Rewards on card spending.
Midnight Blue – N/A : 1% spend back
Ruby Steel – Stake at least 50 MCO for six months : 2% spend back
Jade Green – Stake at least 500 MCO  for six months : 3% spend back
Ice White -Stake at least 5000 MCO for six months : 4% spend back
Obsidian Black -Stake at least 50000 MCO for six months :5% spend back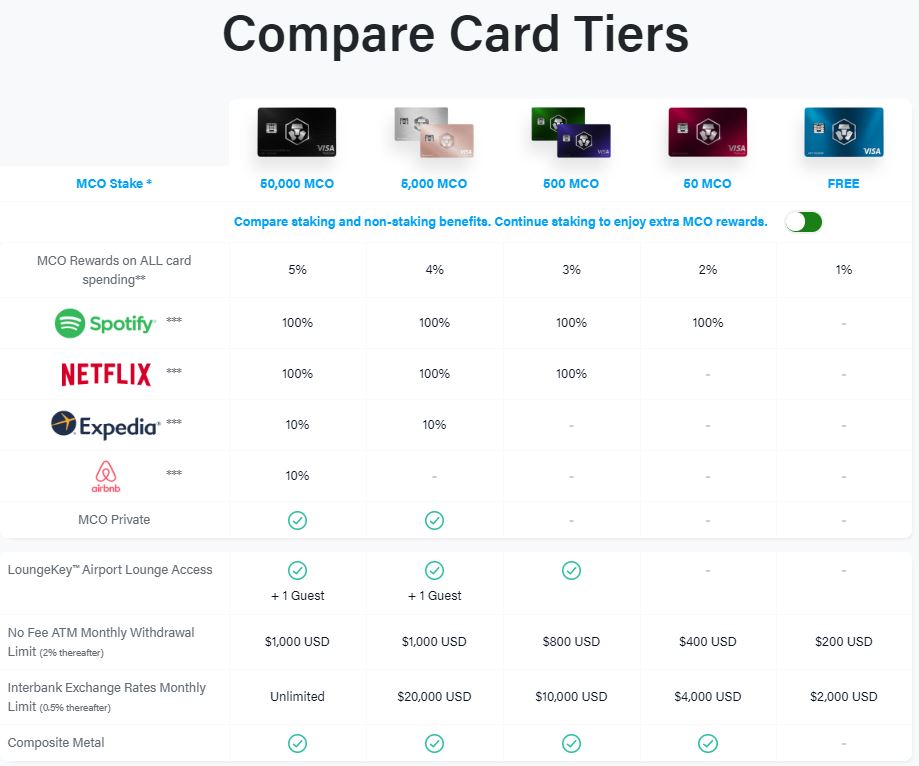 Investing product
A simple and less intimidating way to start cryptocurrency trading. An interested user can start with an initial investment of as little as $20 into a fund. There after the user would answer a few simple question for the purpose of determining whether they are risk averse or otherwise. Thus determining which investment approach would better suit you.
The strategies used by this feature are – as per Crypto.com – optimized for three to six month holding period, however, the funds can be withdrawn at any point. Another noteworthy aspect of the service is that the user is only charged a fee for profits earned.
Credit Service
As the name suggests, this is a way of getting funds from Crypto.com on loan. Put in simple terms, the user can put down crypto assets as collateral on a loan played out in stable coins TrueUSD and PAX, so there's no need sell off assets whenever the need arises.
There are several rewards systems. Amongst other, you'll get a certain discount on your spending's on your VISA crypto card. Also, you will get $25 worth of CRO token in your wallet, for every referral that purchase at least 2500 CRO tokens.
Earn Product
Using this passive service, the user can earn up to 8% p.a on their cryptocurrency. This service works best for users who have staked MCO tokens to their cards. If the user stakes 50 MCO and above, he/she can earn interest on other cryptocurrencies held in their Crypto.com wallet.
Conclusion
Crypto.com seems to have done a great job of putting together a host of services that could make cryptocurrency mass use a lot easier, even for those who are less technically astute. Whether or not the masses take to it is a secret that only the passing of time can reveal.
If you want to find more info about Crypto.com Exchange, read our article "Crypto.com Exchange Review".
And if you use my referral link here to sign up, we will both get $25 each.
Subscribe to the BizzNerd newsletter! and join our team on Keybase.