In this tutorial, we will begin with the basic installation, account setup, account backup and dive into app usage.
If you visited this post only because of the current airdrop – to join it, you'll need to install the app on at least 2 devices (mobile and desktop), create a paper key and confirm your phone.
Note: Not all users from all countries are accepted to join airdrop and below is the current list of acceptable countries:
Argentina, Australia, Austria, Belgium, Belize, Bermuda, Bolivia, Brazil, Bulgaria, Chile, Croatia, Costa Rica, Dominican Republic, Ecuador, El Salvador, Republic of Cyprus, Czech Republic, Denmark, Estonia, Finland, France, French Guiana, Germany, Greece, Guatemala, Guyana, Haiti, Honduras, Hungary, Iceland, Ireland, Italy, Japan, Kenya, Latvia, Lithuania, Luxembourg, Malta, Mexico, Netherlands, Nicaragua, Nigeria, New Zealand, Norway, Panama, Paraguay, Peru, Poland, Portugal, Romania, Slovakia, Slovenia, South Africa, Spain, Sweden, Switzerland, United Kingdom, United States, Venezuela
So to qualify to join airdrop you need to do the following steps:

Install the desktop version of the app
Create a paper key and save it somewhere in a safe place for safekeeping
Install the mobile version of the app
Verify phone via SMS
You don' need to have app on two devices – you can install app only on one device and have two paper keys.
How to install the desktop version of the Keybase app
You can download Keybase app for any OS system you have including macOS, Windows and Linux.
The installation process boils down to:
Download and install the Keybase app.
Sign up for an account.
Fill in your profile.
Create a paper key.
Account Setup
You need to click Create an account link to make a Keybase account with a username and passphrase, then name your computer. (don't use special characters like a dot (.) sign in your username).
You should probably name your computer "YourNickname's Desktop" or "My Work Laptop", I'm in the 0.001% of people who give their computers public DNS names. Remember, this name will be publicly visible.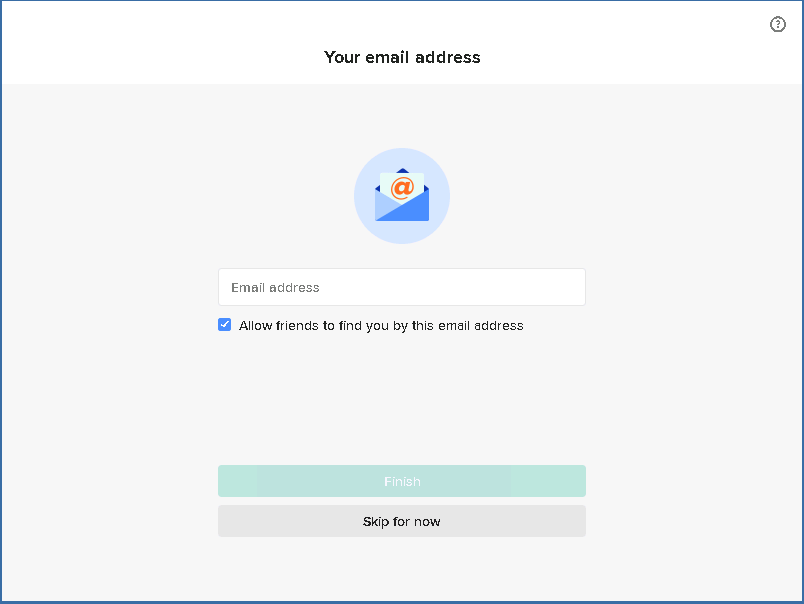 You can skip mobile phone/email verification steps for now.
After registration, you'll see the people tab after you've completed the sign-up process. This is also where Keybase will nag you about stuff you should do, new features, etc.

Well done! You're up and running!
Profile Setup
Keybase is about finding real people. So, they ask for a minimal amount of info about you.
Go to the settings page and click the Edit Profile button (or your Profile icon in the bottom left). There're only a few lines you need to enter (and they're all optional). Note that this is publicly visible.
Manage Devices and Paper Key(s)
Keybase links your account to your computer. It stores all the magic keys needed to access your account. If for some reason you can't access your account anymore – you can recover it with a created paper key.
So, to access your data anytime you need to create a backup key, or in Keybase terminology, a "paper key". This is a random bunch of words you print out (on paper) as a backup.
To create a paper key(s) navigate to Devices section and there you'll find a button "Add a device paper key".

On this screen, you'll be able to add a device or create a paper key.


On the next step press "Create a paper key" button.
Copy and paste it and print it out (or write it out by hand). And then store it somewhere safe.
The first 2 words of your paper key are public, they're kind of like a username. Everything else is secret.
How to install a mobile version of the Keybase app
Either from your App Store or Google Play, choose an appropriate version for your mobile phone.
After a simple installation, you'll have to confirm the mobile device. Go back to your PC app and got to devices and click on the Add a device or paper key button and select Add a phone option.
A bar code will appear to your screen that you'll need to scan with your mobile app.
To pair a mobile device to your account you'll need to repeat the same steps on your mobile app. Once you are ready, scan the barcode from the previous step.
How to Join Stellar Space Drop
The first thing if you didn't do so far is that you need to enable your wallet. Go on your PC app and click on the wallet option. A new popup will appear and afterwards click Open your wallet option.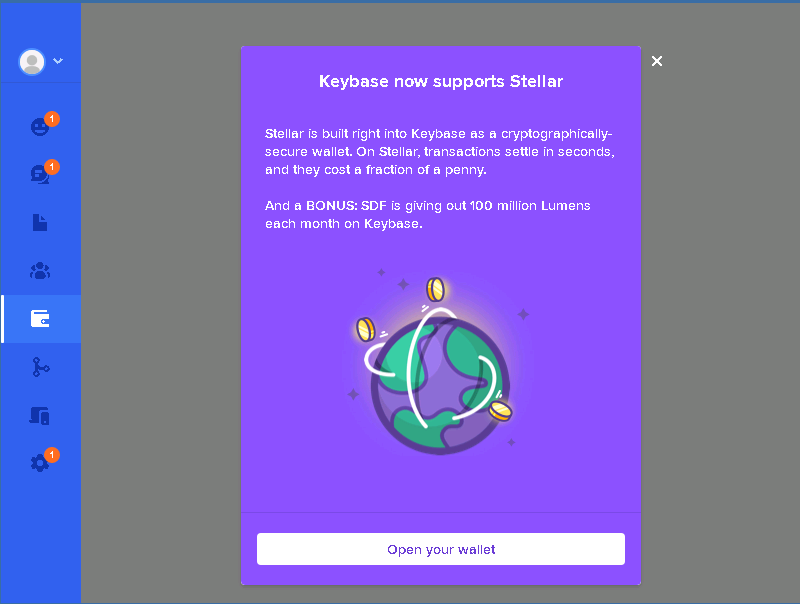 Now go back to the wallet tab and check whether you qualify for the airdrop. If you followed these steps correctly, the prompt will show that you qualify and that you can join the space drop now.
Inside your wallet, you'll see o Join an airdrop option. Click Join the airdrop link and afterwards See if you qualify link.
Now is time to check whether you qualify for an airdrop.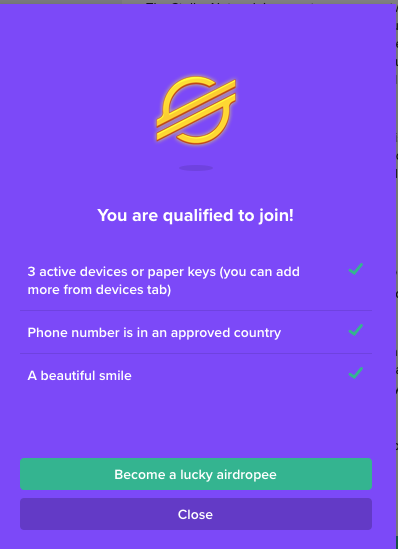 If everything you did correctly you'll finally see "Become a Lucky airdropee" link. Press that link and you are in and next Lumens airdrop will show up in your default wallet account.
If for some reason you receive "Sorry, you are not qualified to join." message I advised you that check our Q/A section.
As you can see, I wasn't qualified to join an airdrop in my first attempt, because I didn't add my phone number and additional device.
In the next part of the article, we will go over some Keybase app features like wallet and chat.
Keybase Chat and Teams?
One of the greatest components of this piece of software is the ability to have encrypted and secure conversations with your friends and team members.
Here are some of the benefits that make Keybase Chat stand out:
Chat history retention among all of your friends that cannot be compromised
Support for multiple friends in the same chat via invitations
Encrypted file transfers
End to end message encryption
For those of you who manage or participate in teams for your projects, the Keybase Team Chat offers some more advanced features compared to the standard chat. Here's some of what it offers in addition to the above:
Supports teams of up to 500 members
Add and remove members at any time
You can create teams / subteams / channels
Member hierarchy
Starting conversation is really easy – just find a friend that you want to chat, click on his profile and click the Chat button, then send messages back and forward. 
Also, what I like is that you can send Stellar Lumens directly to other members in a chat message. You just need to type a similar command in your message +2XLM@username and that is it (you can change the number of Lumens that you want to send).
There's some limited formatting you can use as well as emojis (because every chat app needs emojis)!
You can add several people to one chat conversation if you like, but, if you have a group of people you want to talk to frequently, Teams are the way to go.
A Keybase team is a group of people who can communicate with end-to-end cryptography. This means the team's chats and files cannot be read by anyone outside the team, not even someone who breaks into Keybase's servers.
To communicate better with our readers we created our team on Keybase.
The team can be a public or private one. Team admins and owners can invite other team members. However, if you are a team owner you can as also assign roles to team members (owner, admin, reader) and create different channels and subteams.
Keybase Wallet
Using your Keybase wallet you can also lumens to anyone, even ones without a Keybase account. So now you can send lumens to anyone in the world and be sure they'll get them.
Since Keybase wallets are non-custodial, you have direct access to the secret key to your Stellar account. Those funds are yours. You can use that key in a lot of Stellar clients, though you should be super careful with it because anyone who knows it has total access to your account. And of course, you can send funds to any Stellar address.
The Keybase team did an excellent job and there is a lot of super cool things you can inside your wallet beside sending and receiving Lumens. For example, you can have additional wallets, different trustilines and much more.
Keybase Q/A
Do I need two devices to join Spacedrop?
No – you can have only one and two paper keys.
How I will now if I joined spacedrop?
As long you have your "Lucky airdropee" badge your in.
Can I Install Keybase app on Windows 8 OS (32-bit system)?
Keybase app is 64-bit application and you'll not be able to install it to prior versions of Windows like Windows 7 or 8, especially if you don't have a 32-bit version of OS.
My Keybase app stopped working on my PC
If your app freezes and stops working on your PC, especially if you are using Windows 10 – please uninstall completely Keybase app from your machine and reinstall it again.
How to resolve keyboard typing lag issues using Keybase Android app?
If for some reason experiencing keyboard lagging issue on your Android app like me, don't worry just go to your keyboard setting and disable "Personalized suggestions". If you want to find out more info read the following article "Speed up your Android device".
What if I accidentally pressed "Leave drop" button?
Honestly, I don't know why they put this button here because it is confusing people a lot. But if you already pressed this button, I don't think you'll be able to join spacedrop again.
What is the list of acceptable countries to join the airdrop?
Argentina, Australia, Austria, Belgium, Belize, Bermuda, Bolivia, Brazil, Bulgaria, Chile, Croatia, Costa Rica, Dominican Republic, Ecuador, El Salvador, Republic of Cyprus, Czech Republic, Denmark, Estonia, Finland, France, French Guiana, Germany, Greece, Guatemala, Guyana, Haiti, Honduras, Hungary, Iceland, Ireland, Italy, Japan, Kenya, Latvia, Lithuania, Luxembourg, Malta, Mexico, Netherlands, Nicaragua, Nigeria, New Zealand, Norway, Panama, Paraguay, Peru, Poland, Portugal, Romania, Slovakia, Slovenia, South Africa, Spain, Sweden, Switzerland, United Kingdom, United States, Venezuela
Why Canada is not included in the list?
They excluded Canada due to inability to verify if Canadian phone numbers are purchased at large scale.
What are the minimal requirements to join spacedrop?
Make sure that you installed Keybase app at least on two devices, created a paper key, that you are from an eligible country and that you verified mobile phone. Alternatively, you can have an app installed and only one device and have two paper keys.
You don't need to do anything else (no additional identity proofs – I can verify this). But I recommend that you play with app, find interesting people to follow and teams to join.
Can I use my VOIP number, Google Voice number or landline number to join the airdrop?
Please use only your real cell number to join spacedrop. The app will probably recognize that you have a number in one of the approved countries but there is a huge chance that you'll not be able to join spacedrop. If this happens – remove this number and try with your number instead.
Do I need Lumens in my account to receive drop?
You'll only need to activate your wallet, but if you joined spacedrop you already this. The account will be activated with the first drop.
Can I have multiple accounts?
In the right-side navigation menu of your PC app, you'll find an option to switch between accounts. On your mobile, there is a similar option on your profile page.
Don't use multiple accounts to join space drop. There is a huge possibility that they'll remove your account from spacedrop if you do so. Don't be greedy it is a gift – let other people enjoy free Lumens as well.
Why I am not qualified to join the spacedrop?
First of all, make sure that you read all of our QA section and official Keybase spacedrop page.
If you have all three green checks you'll a receive a message "I am qualified to join". Afterwards, you need to press "Become a lucky airdropee" button to join space drop.
If for some reason on this step you get "You are not qualified to join" message, there is a couple of things that could wrong here. You've probably triggered their fraud detection, but at the moment we don't why or there is no official explanation from Keybase or SDF.
Also, a lot of people try to cheat by using VPN, VOIP numbers or doing some other funny business and they'll be prevented to join airdrop with the same message. Also if your current location differs from your phone provider country – there is a chance that you'll be blocked as well.
This is official message taken from space drop page:
We reserve the right to blacklist users, even after registering. If you appear to use a bot or multiple accounts to sign up for Keybase, we'll blacklist you. Similarly, if you appear to come from fishier IP's, we may exclude you.
However, If you didn't cheat and still are not able to join – it is a known issue. If you are experiencing this issue nobody can really help you. You can report this is as a bug to their Git page and that is only you can do at the moment. I personally think that the problem is in phone numbers and that some real phone couriers using other cheap services, but that is my personal opinion.
This is taken from the official spacedrop page:
This is from SDF, and neither we nor they accept financial responsibility for failed attempts to collect. If you lose access to your account or "reset" it, fail to register correctly, or even if we have a bug…adios wealth.
Will installing my app on other device resolve my issues with joining spacedrop?
Reinstall Keybase app will not help, resetting the router or adding Keybase on another PC – because it is the server-side issue rather than a client-side issue.
Why I didn't receive Stellar Lumens?
If you joined airdrop successfully – you'll not get Lumens right away. The first airdrop will be on the 15 of November and next one on 15 of December. If you were eligible for spacedrop and didn't receive your lumens – there is nothing you can do at the moment. This is taken from their official page:
Similarly, if there's any bug in Keybase's Stellar wallet – which is new – and you lose your Lumens, we accept no responsibility
How much Stellar Lumens I will receive?
In total, they are giving 2 billion Lumens (roughly $129 million USD) out using Keybase over the next 20 months. On the 15th of each month, SDF will give the next batch, divided equally among everyone.
At the moment of writing this article, there are 167965 registered users. The next airdrop will be Nov 15, 2019, and they will be equally shared to each user 100 million Stellar Lumens (XLM), which means that each user will receive approximately 597 Lumens (XLM).
How to report Bug from PC?
If you are having problems on your PC. Then open the command prompt (click Start, Run -> type in CMD )
Then this window will appear, where you need to type the following command :
Keybase log send
And then follow instructions.
How to report bug from mobile?
Login to your mobile app, then just follow instructions from Settings > Feedback page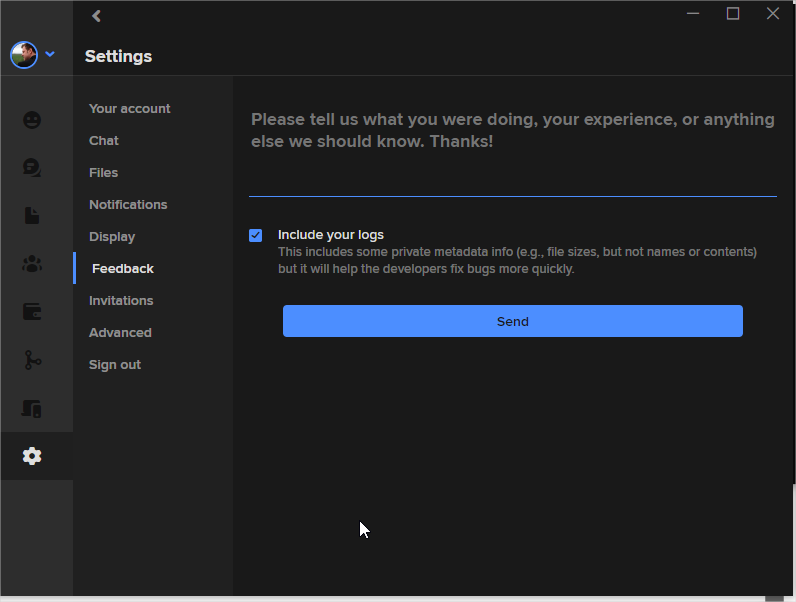 You can check on all reported bugs, issues with their current statuses are on GitHub.
Conclusion
Keybase is a great app and it is more than just a simple chat app. However, it consumes a lot of memory on mobile and PC as well. Also, I've experienced some bugs as well and network issues. I don't really mind all of those issues, because the app is in the early stage and it will improve over time.
Only what I mind is lack of support. There is no way to communicate with Keybase staff directly. Mostly guys across channels inside the Keybase app are regular members helping others.
Subscribe to the BizzNerd newsletter! and join our team on Keybase. We are giving all new members 1.5 XLM as a welcome gift.
If you want to find more info about Stellar and Stellar Lumens (XLM), in general, read our article "Stellar Network and Stellar Lumens (XLM) an Overview" or "Keybase Review and Keybase Stellar Space Drop".