You are definitely familiar with Soulslike style games. If this is the first time you have heard of them, we have to say that this genre includes games that are modeled similarly to Dark Souls, the first version of which was released in 2007. In fact, Dark Souls created a new style not only for video game campaigns but also for interacting with the environment and storing the game.
Sekiro Shadows Die Twice is like any other similar game. Miyazaki didn't break the tradition in the works, including both Sekiro and Bloodborne. So, what made it stand out and become one of the most successful games in the genre?
Sekiro Shadows Die Twice: Story
The story of Sekiro Shadows Die Twice takes place in the Sengoku period in Japan. Sekiro is the name of the main character of the game, who appears to be part of the Shinobi. They were a group of fighters in the feudal era of Japan who preferred to avoid direct confrontation as much as possible and to go more secretly, although they had learned the fighting skills completely.

Master Sekiro (Divine Heir), who is a teenager, enjoys a very valuable divine blessing: immortality. Anyone who can dominate him and deceive his soul is able to use or abuse this divine blessing and immerse the world in peace or oppression. It does not take long for the cruel Ashina tribe to kidnap the master, and now in the storyline of Sekiro Shadows Die Twice, you must save him from the enemies.
The game begins with you fighting one of your biggest enemies from the Ashina tribe, who suffers a major defeat, causing Sekiro to lose a hand. This led him to later find a mechanic that specializes in prosthetics which designed a powerful metal arm for Sekiro. This hand has a very important effect on Sekiro Shadows Die Twice gameplay.
Sekiro Shadows Die Twice: Gameplay
Sekiro Shadows Die Twice gameplay is one of the things that makes Sekiro very different from other games of its kind. The gameplay structure consists of sword fights. Like Dark Souls and Bloodborne, you have to fight your enemies with cold weapons such as swords and shields. The battles are very diverse and in most cases difficult, and you will have to master the mechanic, which will be explained in the following.
Sekiro: Shadows Die Twice leaves the player completely free to choose their fighting style, and despite the high variety of fights and possible styles, you can choose the type of fight and progress accordingly. For example, you can kill all the enemies with a sword, search the environment to find arrows, or go into stealth.
Mechanism
Sekiro has 3 main mechanisms for winning battles and advancing the game: 1- Parying or defending the enemy's blow at the last moment 2- Dodging or Dive 3- Blocking or defending blows. You have to use all of them in battles to defeat the game's stubborn enemies. In Bloodborne, there was only a dodge mechanism, and in Sekiro for PC, a blocking mechanism was added. Defending or blocking, while seemingly making it easier to play, is also a different way of fighting enemies than Bloodborne and Dark Souls.
Now the enemies often land much heavier blows and you have no choice but to 'Pary' to defeat them. The enemies are much more ruthless and have become more powerful as you equip yourself with more defenses.
Sandbox environment
The interesting thing about the gameplay is that the game environment is sandboxed. The sandbox environment means that the game world is not open, but titles like TLOU 2 or God Of War allow you to roam freely in the environment and even complete secret missions and collect useful items.
The environment and game map are really detailed and beautiful. The mesmerizing atmosphere of feudal Japan, along with the colorful but sad environment, gives you a very artistic and special sense of contradiction. When you fight enemies in the white meadows and green plains, you will find yourself completely immersed in the environment and you may not want the battle to end at all. We have already seen the suffocating and scary atmosphere in the Miyazaki and Fram Software games; But with Sekiro, it proved to us that this creative and skilled studio is not only a master at creating dark and cold atmospheres but can also bring us a tough game in a colorful environment.
Map
As we said, the game map is full of details. By that, we don't mean the map you use to navigate yourself across the world; The game world is so huge that you can spin in it and find a unique item or mission instead of using the signs to find your nearest enemy.
There is something to do in every corner of Sekiro Shadows Die Twice gameplay. For example, by doing a series of mini-games, you can upgrade your sword or collect resources and go to the blacksmith to upgrade your equipment. In short, the role-playing element is much more present in this game than in Dark Souls and Blood Raven.
Sekiro Shadows Die Twice: Game Graphics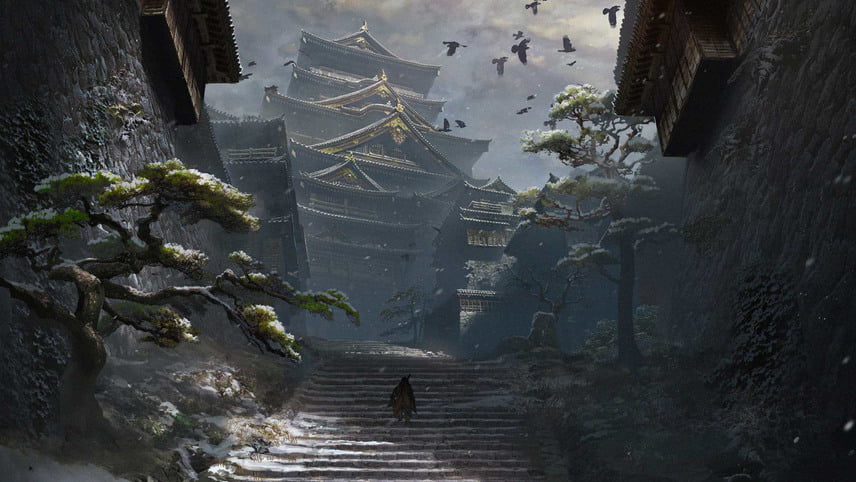 Sekiro Shadows Die Twice game graphics are designed so that every gamer can enjoy it. The game is very optimistic thanks to the amazing graphics engine from "From Software", and almost all old systems are able to run Sekiro. If you see the system requirements for Sekiro Shadows Die Twice; You will find out how optimal this game is. It doesn't lag on PC or drop frames even in the most detailed scenes, and this game will be one of the smoothest titles you will play.
Of course, we have to say that Sekiro: Shadows Die Twice does not surprise in terms of graphics; But they aren't poor or mediocre. In fact, From Software has used a special style for the graphic design of the game, which has made it turn fantasy into a bit of realism. The shadows are of good quality and we do not see sharp edges or shallowness in them, especially when moving. The ambient light at night is spectacular, and if you look at the sun during the day, you will see a beautiful reflection on your monitor screen.
Sekiro Shadows Die Twice: Sound and Music
In such games, the voices of the characters are always of special importance. Since the game has a samurai-like atmosphere, professional voice actors are needed to convey an epic feel. The game gives a lot of attention to this problem. The voices of the other characters also sit on their faces and express their dialogues well with the right tone.
The music of the game is well in tune with the story and atmosphere of the game. When necessary, the rhythm becomes faster, and when walking normally, you hear a quiet voice and soothing music. You can also play the game with no music at all, allowing you to immerse yourself in the visual environment and hear the sounds of it. In addition, you will hear the best music during battles;
The final word…
Sekiro Shadows Die Twice is one of the best games of the eighth generation, which fully deserves the title of the best game of 2019. The epic story of Sekiro, along with the game's extremely challenging gameplay, can keep any gamer satisfied. Downloading Sekiro for PC can be one of the best options for you, especially during this quarantine period. If you are a fan of Dark Souls or any other Soulslike games, do not hesitate for a moment to experience Sekiro. If this is the first Soulslike title you want to play, Sekiro is a great place to start.