Crypto
Koinda.com and CJs Token Review
Koinda (Koindanomics) is a group focused on the eradication of economic oppression everywhere.
They focus on group economics and the utilization of technology to help even the playing field for the oppressed.
Koinda (Koindanomics), also previously known as "The Black Coin Group" is a facebook group founded in January of 2018.
Today Koinda is :
One of the fastest-growing economics group on Facebook.
A collaborative effort to eradicate economic oppression
Access to information on financial literacy, cryptocurrency, and blockchain technology.
A community of like-minded individuals that love listens and learn from one another.
An environment of learning, educating, creating, sharing, and bringing ideas to life.
Koinda is a growing community of contributors that serve a fast-growing public of knowledge seekers, innovators, gurus and more. Their community goal is to gain more knowledge about the economic impacts of the past, the projections of the future and what can be done about it today to make a difference.
Koindans get, give and show love on a daily basis, be it through the sharing of the community currency (Garvey) or through support and ongoing education. There's no slowing down this mission-driven community of great minds, innovators, and executors; whose combined contributions of love, togetherness and community will target the eradication of economic oppression and kick-start a new beginning on a levelled playing field.
Mission
Koinda mission is to eradicate economic oppression through education, unity and technological advancements. Their organization is built on a strong foundation of love and cooperative economics.

The Facebook group, Koinda, was born out of the sheer need and thirst by Lamar Wilson, Lafe Taylor and their followers to educate, eradicate and empower all people who have been marginalized and suffer undue economic injustice. Koinda seeks to accomplish these milestones through such avenues as, love, togetherness and community improvement while utilizing the Blockchain, cryptocurrency and other financial ventures.
There are several branches of Koinda that have been established to address additional group concerns as they relate to Singles, Travel, Health, Marketplace, Think Tank, etc. Koindanomics is not simply a Social Media group but rather Koinda is home. Everybody is equal, valued and everybody has something to contribute.
Koinda has been dubbed the "fastest-growing" black group on Facebook.
CJs Token
The CJs is on Stellar Blockchain and such is no different than XLM.
The CJs sole purpose is to establish a currency that will set the foundation for a new economy. To understand the CJ, you must look into currencies like the WIR of Switzerland. See 'Rethinking Money: How New Currencies Turn Scarcity into Prosperity', by Bernard Lietaer and Jacqui Dunne, leading currency economists.
It's direct for Keybase, or you use Lobstr, Stellarport.
How to add CJS to Keybase Wallet?
Sign in to your Keybase app and go to Wallet Settings. There you'll see "Manage Trustlines" option.
Click on manage "Manage Trustlines" button and find CJS token. On the final step just add it to your wallet.
Rember that Stellar holds 0.5 XLM per trustline from your Lumen balance.
How to exchange CJS to XLM?
Go to your Keybase wallet and as Send option choose "To one of your other Stellar accounts".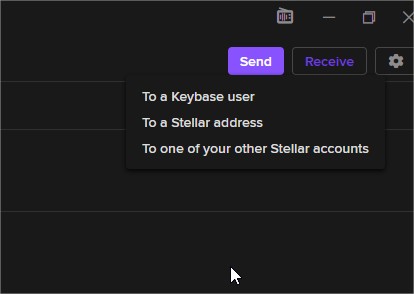 If you want to exchange XLM to CJs make sure that both fields (from and to) are related to your account.
Afterwards, you will see the option "Send other assets". After pressing that button a new popup will appear.

In the last final stage choose how much CJS you want to receive and click Send button.
That is it and you have successfully exchanged some XLM to CJs.
Conclusion
Koinda is a great community and CJS is a great token especially if you are part of that community. At the moment the price varies from 0.06 to 0.08 dollars per token. I am really sure that we will hear in the near future a lot about their token and marketplace.
Subscribe to the BizzNerd newsletter! and join our team on Keybase.  If you join our cjs team on Keybase, we are giving first 100 members 1.5 CJS as a welcome gift.
If you want to find out more info about Keybase app read "Keybase App Tutorial".