Crypto
Entertainment
The Ultimate Marketing Guide to Promote Your NFT Project
Stop searching for the ultimate guide on how to promote your NFT. Here are what you need to know before thinking of promoting your NFTs on any platform.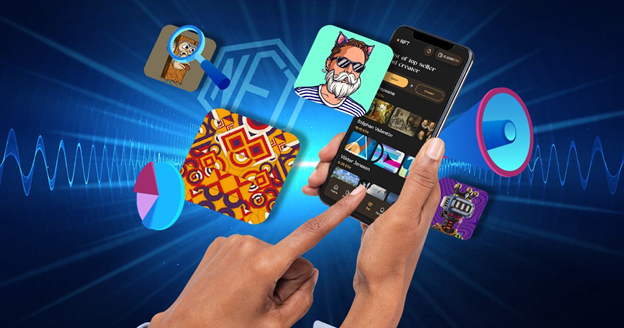 The NFT industry is flooded with so many projects. This alone makes it challenging for new NFTs to succeed. How to market your NFT could be stressful if you don't understand the strategies. You must understand the market and create a unique NFT marketing plan to gain visibility. Only with this can you get bids and returns from your NFTs. In addition, NFT marketing is not an easy task if you do not have the required skills and knowledge. This is why many individuals prefer NFT project collaborations.
Why You Need An Experience NFT Marketing Service
Learning how to promote your NFT can be time-consuming. This is why many NFT creators involve experienced marketers to achieve a thriving NFT promotion campaign. This article is an ultimate guide on how to promote your NFT project.
How Are NFTs Created?
Understanding how NFTs are created will keep you on track to establishing a successful NFT project. NFTs are developed by minting digital art on the Blockchain platform. Created digital tokens can be in the form of GIFs, JPG, or videos. This is then placed on a marketplace for sale. Here is a brief description of how to create an NFT art using a recognized NFT marketplace, OpenSea.
The first step is registering on your preferred marketplace and linking your account to an Ethereum wallet to hold your NFT or any other cryptocurrency you get from your NFT sales.
Then, upload your file. This file contains digital assets, a video, or an image. Upload it to an InterPlanetary File System (IPFS) decentralized storage service.
Now it's time to mint your NFT. Mint is a token designed for the file to generate a specific cryptographic signature that would stay on the Blockchain. With this, you are sure that the uploaded file is original.
Your NFT is ready to be listed for sale. Set your pricing – Make known the minimum price and the auction duration.
Now that you have your NFT, the next line of action is to market them. Experienced marketers or NFT creators use several techniques to promote their NFTs. These are some strategies that you can implement to promote your NFTs.
How to Mint and Promote Collectibles on NFT MarketPlace
Regardless of the guides and success stories from several top NFT entrepreneurs, many artists still lack the required skills to create these collectibles. Promoting your artwork on an NFT marketplace as a creator involves knowing how to mint and sell your artwork. If you are looking forward to how to promote your NFT, then here is vital information for creating digital collectibles in well-known marketplaces.
1.Open A Digital Wallet

You must open one on any verified platform for individuals who do not have a crypto wallet. Go for the wallet with a browser extension and a mobile app. This would give high accessibility.
2. Add Funds to Your Wallet
Before you, as a creator, are allowed to mint on any famous NFT platform, you must pay a certain digital collectible fee in advance. By minting, we mean transforming digital arts into saleable NFTs. On most platforms, payments are made via the ether. Ether is a native cryptocurrency for the Ethereum platform. If you do not have ETH, you must buy it online from an exchanger.
3. Add Your Wallet to An NFT MarketPlace
Once you have created your wallet and funded it, you need to connect it to an NFT marketplace. There are several platforms available in the market. However, it should be noted that these platforms have special features that make them distinct from each other. Therefore, you need to know more about your chosen platform before choosing it. Also, it is important to discover the sharing money formula on the platform. This will let you know what will get to you when your asset is sold.
4. Load the Digital File into A Digital Collectible
When you successfully link your wallet to an NFT marketplace, it is time to develop your artwork. Depending on the platform you want to use, when you click "create," you will see the choices of how you would love to sell. You can either create a single sale or sell multiple times. Make the best choice that meets your requirements. You may also choose to upload your file in MP4, MP3, PNG, etc.
5. Chose an Auction for Your NFT
How do you want to sell your digital collectibles? This should be decided before thinking about how to promote your NFT. There are 3 auction choices you can select from:
Fixed price
Unlimited auction
Timed auction
You can set your price and make sales directly with a fixed auction. The unlimited auction enables people to make a bid, and at the end, you sell the item to the best bidder. Time auction makes you set a duration for getting bids. Knowing the best price for your NFT could be challenging. Selling too cheap may not pay you for all your efforts, time, and resources. Fees placed on some NFT marketplaces are high, so adding a low price on your NFT may yield nothing.
Set Up A Description of Your Digital Collectibles
You must add a title and an explanation to your listing. If you need your NFT promotion to go right, have clear information that can increase the chances of selling your digital collectibles. State the right royalties to receive from a resale of your products. At this juncture, you can strike a balance. Higher rates would give you reasonable profits. However, it may stop people from also buying your NFTs.
Join Relevant Conversations on NFTs and Blockchain Technology
Now that you have set up your NFT, your promotion will boom with the right NFT marketing service. As an NFT creator, you must join positive conversations about NFT and cryptocurrency on any platform. There are channels like Twitter, Telegram, Discord, etc., where you can find NFT groups and communities. You can engage these channels, using them as a medium to share your thoughts, learn and get your perspectives. Do not flood conversations with spam promotions on any channel you find yourself in. Request the community members where you find yourself to help with feedback on your content, project, community, etc.
Conclusion
One other trick you need to understand about how to promote your NFT is becoming an NFT collector. To promote your NFT pieces, start collecting virtual collectibles from other artists. You can share your milestone on social media platforms and tag the creator you bought from. In turn, the artist can share your story on his platform and automatically boost your audience, and in a way, that means promotion for you.