A lot of us take Minecraft building for granted. We build a small house, maybe a stable and a pen, and that's about it. However, the building community inside Minecraft is HUGE. After all, the game hosts a big array of blocks to choose from thus giving us endless possibilities and combos. But even so, I'm sure that even the devs never dreamt of things on such a scale as you're about to see. Let's take a look at the top 5 most impressive builds in Minecraft!
5. WesterosCraft
WesterosCraft is an astounding rendition build of the Game of Thrones realm of Westeros, meticulously crafted within the Minecraft universe. Finally, you can fully visualize the scale of the world and visit all your favorite places from the show/books! Certainly, it could potentially be a good role-play setting with your friends.
Jacob Granberry, the mastermind behind WesterosCraft, showcases and discusses this impressive creation in an exclusive video interview with TIME magazine titled "Game of Blocks." You can find additional captivating videos and timelapses featuring iconic Westeros locations such as Dragonstone, Castle Black, and Pyke on the WesterosCraft website. Moreover, Minecraft enthusiasts have the opportunity to download and explore maps for renowned places like King's Landing, The Dreadfort, and Winterfell.
4. Crafting Azeroth

If your thirst for World of Warcraft is never quenched, you're in for a treat with the Crafting Azeroth project. They've accomplished a remarkable feat by crafting a full-scale rendition of Azeroth, Kalimdor, and Northrend right within Minecraft. This astonishing replica sprawls across a vast expanse of over 500 virtual square kilometers, painstakingly assembled from an astounding sum of over 100 billion blocks.
So, how was this colossal undertaking achieved? It all comes down to specialized software that transforms WoW data into an intricate Minecraft duplicate. The results, we must admit, are nothing short of breathtaking, albeit in that distinct blocky and Minecraft-chic style.
3. Greenfield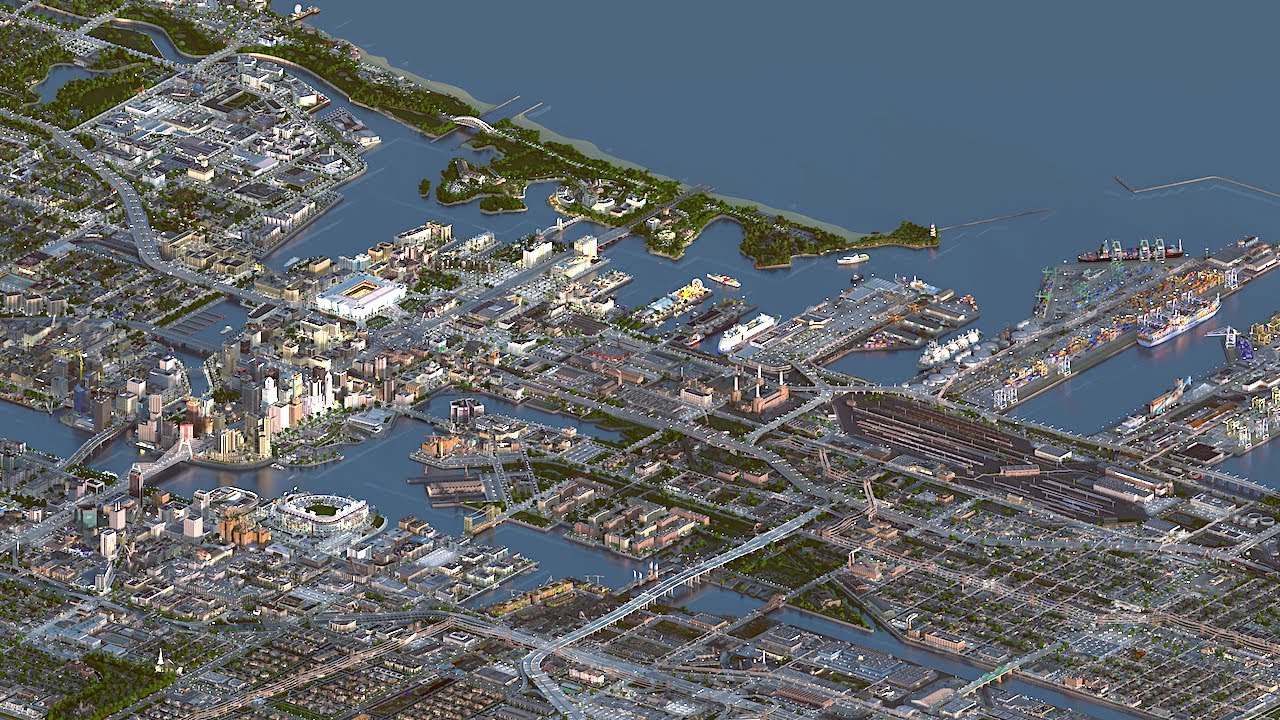 Greenfield is a fictional metropolis inside of Minecraft! As of May 2022, this city is a work in progress, with one-fourth of its grand vision realized, covering a staggering expanse of 20 million blocks. The ambitious project was initiated by Minecraft enthusiast THEJESTR back in August 2011 and has since gained widespread acclaim.
Greenfield's design draws heavy inspiration from the West Coast of the United States, particularly the sprawling urban landscape of Los Angeles. What sets it apart is its commitment to a one-to-one scale, where each block represents a single cubic meter. This meticulous approach has resulted in a city replete with real-world features, including industrial zones, bustling ports, comprehensive public transportation networks, leafy suburbs, a bustling downtown core, and most recently, an impressive airport!
2. Middle Earth
Middle Earth, the iconic setting for both the Lords of the Rings and The Hobbit trilogies, features some of the most captivating architecture. Notable designs include the imposing Orthanc tower, Bilbo Baggins' cozy hut in the Shire, and the awe-inspiring Pillars of Kings, also known as the Argonath. Amidst these wonders lie cities like Gondor and Dol Amroth, all of which have been meticulously recreated, block by block, in the world of Minecraft.
The journey began in 2010 when "q220" laid the foundation for this remarkable endeavor. Since then, the project has evolved into a collaborative community effort, with every nook and cranny of the map receiving careful attention. Impressively, the map spans an area equivalent to the city of Dallas, Texas, serving as a sprawling canvas for a faithful block-by-block representation of J.R.R. Tolkien's beloved and best-selling novels.
1. The Uncensored Library build
The Uncensored Library is a virtual world inside of Minecraft built by the nonprofit organization Reporters Without Borders. The idea behind this build is not aesthetic but rather world-changing. In countries such as Russia, Saudi Arabia, or Egypt, journalism isn't free. So, those journalists who refuse to write political propaganda often have to flee and the government bans their articles. However, this Minecraft build hosts all the banned texts you could possibly phantom.
Also, besides its main usage, the build itself is beautiful. As you approach the main entrance you will find a giant statue which depicts a hand clutching a pen. This is the official symbol of press freedom. Hopefully, this can even further spread the word about this amazing build. Potentially, help it reach those who need it the most and expand it even more!