We will not say that it is a fault of the profession instead it is the demand of the audience.
Everyone would rather read about celebrities or watch Instagram photos or Youtube, than reading about something challenging to grasp, even this information could improve our life standard.
Today to get real information and facts about certain topics is hard and you need to conduct personal research, which in modern time people simply don't have time.
One of the real issues that we are facing today is the rise of experts that are basing there theories and communities on false assumptions.
To support quality writers and news on our portal and elsewhere, we released our token BIZZNERD.

We can't gather the best experts in one place, but certainly we readers can reward them with some donations across all networks.
We will also via our news media try to support Stellar, Keybase and other assets built on Stellar Blockchain as we did in the past.
Our main goal will stay the same to protect our investors, readers, publishers, and workers from false or hype news from crypto or other industries.
BIZZNERD economics
This is only beginning because soon after we officially start with ICO launch, we will create BIZZNERD marketplace – a unique trading platform where you will be able to trade using different cryptocurrencies or with BIZZNERD token.
There is a lot to consider here and this is something we are working on it – and more information you can find on our official ICO page.
BIZZNERD token
The BIZZNERD token is on Stellar Blockchain and such is no different than XLM. We officially started with trading on 21 of February 2020, but this is not the official distribution date of our ICO.
The official release of BIZZNERD ICO will be at the end of the year 2020.
How to add BIZZNERD to your Wallet?
If you are using SDEX exchanges like Stellaprot, StellarX, Interstellar, StellarTerm, Scopuly or wallets like Solar, Keybase, Litemint and Lobster just find a BIZZNERD asset to add to your asset lists.
Note: Search BizzNerd Token by asset name or anchor domain name (try to find asset by typing asset name "BIZZNERD" or issuer domain name "bizznerd.com")
If you are using custom Stellar wallet you can find more info here – "how to trustline to your Stellar account using Transaction Builder".
However, if you are using Keybase, it is really simple. Sign in to your Keybase app and go to Wallet Settings. There you'll find "Manage Trustlines" option.
Click on manage "Manage Trustlines" button and find BIZNNERD asset. On the final step just click accept and add it to your wallet.
Remember that Stellar holds 0.5 XLM per trustline from your Lumen balance.
How to buy BIZZNERD token?
Go to your Keybase wallet and as Send option choose "To one of your other Stellar accounts".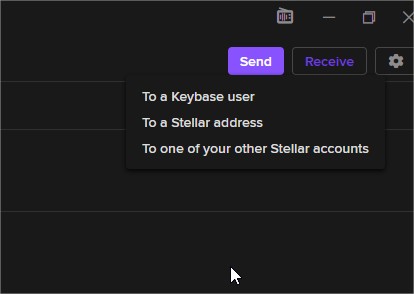 If you want to exchange XLM to BIZZNERD make sure that both fields (from and to) are related to your account.
Afterwards, you will see the option "Send other assets". After pressing that button a new popup will appear.

In the last final stage choose how much BIZZNERD you want to receive and click Send button.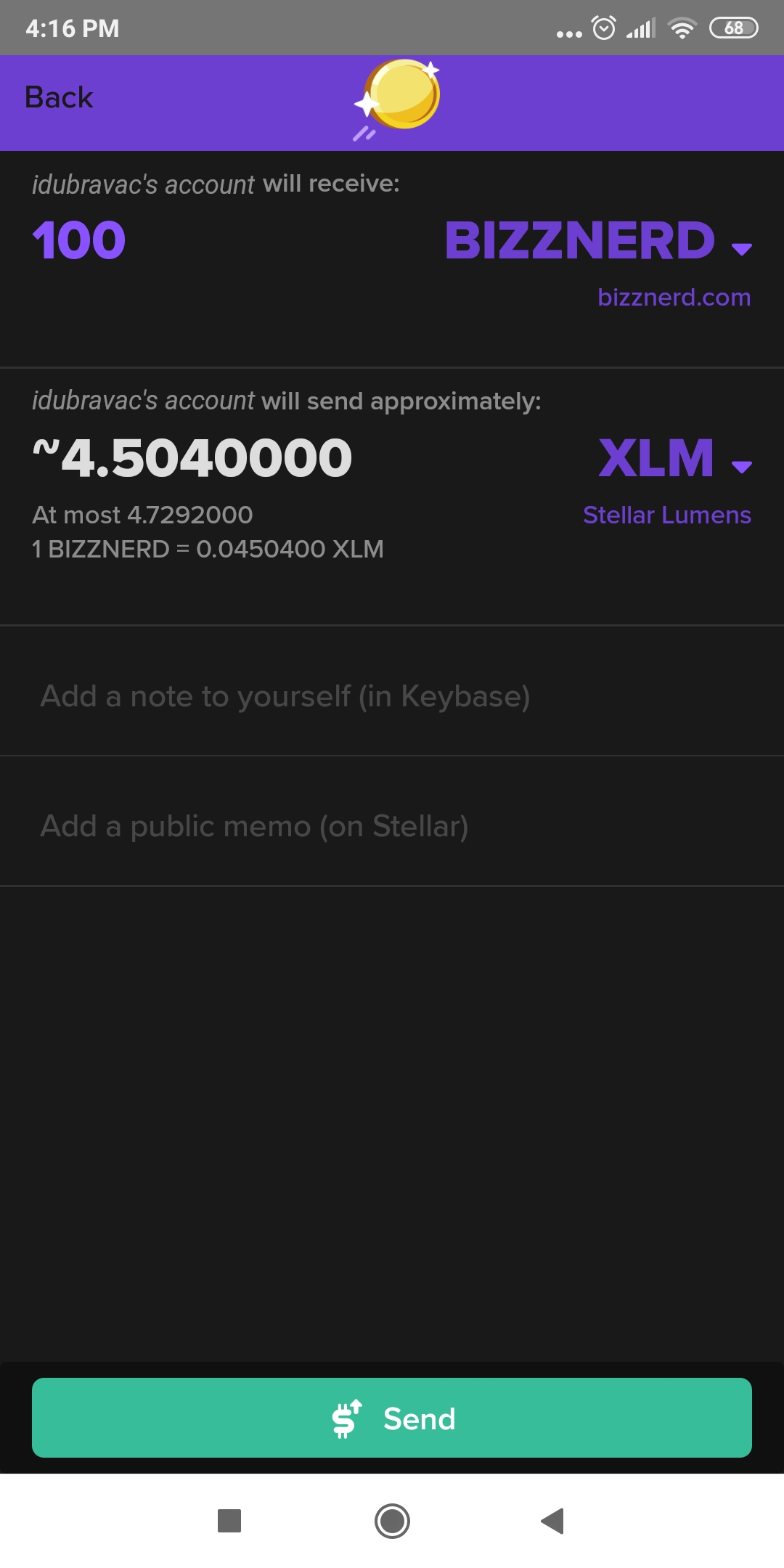 That is it and you have successfully exchanged some XLM to BIZZNERD.
How to Join BIZZNERD Luna Drop And Claim Free BIZZNERD Tokens?
To join airdrop, you'll simply need to add BIZZNERD to your trustlines and fill out the following form. 
We will send each participant 5 tokens for the first airdrop. We will send additionally 1,5 tokens for following our Twitter or Keybase account.
5 BizzNerd tokens for establishing trustline and filling out the form
1.5 for following our Twitter account – enter your Twitter username in the form
1.5 for following our Keybase team – enter your Keybase username in the form
1 token goes to referral
Conclusion
We will release a small amount of BIZZNERD tokens on the market before we start with the official token distribution. If you want to track the latest token news I advise you to follow us on Twitter, Facebook, Telegram subscribe to the BizzNerd newsletter! and join our team on Keybase. Stay tuned, because we will have BIZZNERD airdrop soon.
For more information visit our official token page.