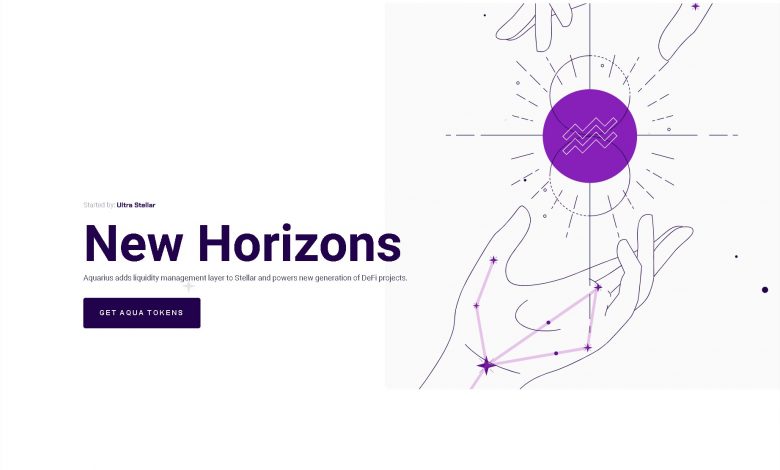 What is Aquarius?
Aquarius is a solution designed to bring increased liquidity, and control of its distribution, to various SDEX (Stellar DEX) market pairs. Traders on SDEX and token holders will vote for market pairs that require liquidity to allocate rewards. The voting will happen on-chain and active participants will be rewarded. Aquarius is powered by an AQUA token, which is used for rewards, benefits, and on-chain voting, which lies at the centre of the protocol's incentive system.
AQUA Token and AQUA Token Airdrop
AQUA is the currency for rewards and on-chain voting, that lies at the core of the protocol's incentive system.
The earliest active accounts that traded on Stellar DEX before 2021 will naturally serve as responsible first holders and are eligible to claim AQUA tokens.
5% of the AQUA total supply, or 5,000,000,000 AQUA tokens, will be distributed to historical traders on the Stellar Decentralized Exchange. Distribution will start first to those who engaged in trading on Stellar, before January 1, 2021.
Who is Eligible for Airdrop?
Every Stellar wallet that has completed at least one trade n the SDEX before January 1, 2021. is eligible and will have the opportunity to take part in the distribution. Have in mind that completed path payments do not make an account eligible for this airdrop.

If you received a notification to claim a balance payment on your Lobster orStellarTerm wallet you are already eligible. However, if you haven't received any notification yet, you can check if you are eligible on their official Aquarius airdrop page.
The airdrop distribution will happen through a claimable balance payment. Even if you don't have an AQUA asset trustline in your wallet, via claimable balances you will be able to accept assets.
AQUA tokens will be delivered to eligible wallets in 5 phases and each distribution will be sent out around the same time monthly.
Each of the 5 claimable payments must be collected by the eligible wallet within approximately 30 days of the payment creation date. If the payment is unclaimed after a 30 day period, it will be collected back and reserved for the Community DAO fund. This fund, held in a multisig wallet for the future, will be used by holders of AQUA tokens who will vote on what these funds should be used for.
If a wallet misses a phase they will not be excluded from receiving any following payments and can continue with the remaining phases.
The Multiplier Effect and Criteria
As previously mentioned there will be 4 levels of rewards. The base reward is offered to all eligible wallets. Other levels of rewards rules are:
Wallet Trade Activity – you need to have more than 10 trades with this wallet to qualify.
Ultra Stellar Use – if you've used LOBSTR or StellarTerm with your wallet before January 1, 2021, you qualify!
Wallet Creation Date – If your wallet was created before January 1, 2019, 00:00 UTC, two years before the current snapshot, you qualify!
How to claim AQUA token?
Eligible Stellar wallet holders can collect their AQUA tokens in any application that supports the claimable balance feature of the Stellar network. Users of LOBSTR, StellarX & StellarTerm should be all set to collect the AQUA airdrop inside their accounts. They will be notified via an email message and also receive a push notification from the mobile app, suggesting to collect the payment.
If for some reason you don't have any application that supports the claimable balance and you are eligible for the airdrop, I advise you to sign to your wallet using StellarTerm and claim balance there.
When logged in, a noticeable message will be displayed inviting you to claim the payment from the interface.
Collection of your first claimable payment will require an AQUA trustline. If this isn't already set up, you will be required to have at least 0.5 XLM available in your Stellar wallet to cover the reserve requirements for the AQUA trustline.
Once you collect the payment, your AQUA tokens will be immediately available in your wallet to send and trade.
Conclusion
Don't worry if you haven't qualified for this airdrop. The next airdrop will target every Stellar Network participant, even those who just recently got into Stellar.