There are not many cloud wallets that support Doge, so this is one of the main advantages of Block.io and one of the main reasons I started using it in the first place.
For me, Block.io is one of the easiest and most secure web Bitcoin Wallet that exists. They follow two signature authentications to store addresses. To store address Block.io signature and user's signature is required. They also support green addresses, meaning that you don't need to wait to use your coins when you deposit, it's instantly available.
One of the negative aspects is that private keys for the wallet are stored by Block.io meaning users lose some control over their funds. However, Block.io apply strong security measures by encrypting private keys with 256-bit AES cipher.
Wallets do have multi-signature functionality and users can also enable two-factor authentication for an extra layer of security. Withdrawals require at least two signatures with one being the user and the other being Block.io themselves. Users can enable up to four signatures for their side for a total of five signatures required.

Block.io charges no additional fees for transactions. Any fees charge represents solely the network fees for Bitcoin, Litecoin, or Doge.
How To Create Block.io Wallet?
To create your wallet simply go to block.io and click SIGN UP.
On the first registration, step enter your email and password.
On the next step, you'll need to set your secret PIN.
Once you click on the "Set Secret PIN" button a new "Secret Mnemonic" pop up will open. Please write down your Secret Mnemonic.
Note: On sign up Block.io asks you to save secret Mnemonic and Secret PIN (This is necessary to withdraw/send your coins. Do not lose it. Do not share it with anyone) Your account will be lost if you lose your Secret PIN and Mnemonic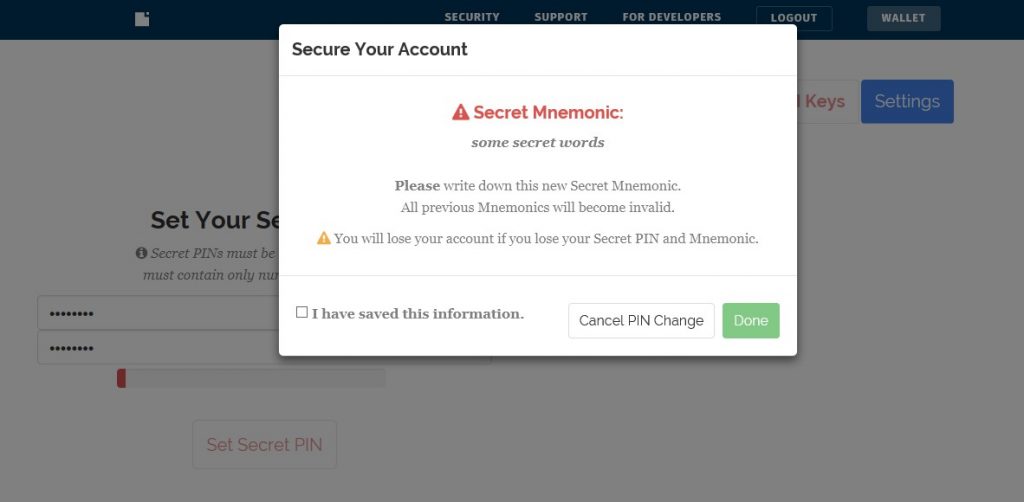 After logging in successfully, you'll see Block.io dashboard and be able to access your wallets and preview transactions.
Block.io Network Fees
For Dogecoin Transaction(s) – 1 DOGE
For Bitcoin Transaction(s) – 0.00002 BTC
For Litecoin Transaction(s) – 0.001 LTC
These Fees Depends on Size of your Transaction in Bytes.
Note: There are three ways to withdraw Slow, Normal and Fast. Each one has a fee Higher than one before. Normal is recommended By Block.io, but You can select which one You want.
Block.io Security
Block.io uses the mechanism of MultiSig wallet and any transaction needs to be signed by more than one key: one controlled by Block.io and the other by you (your secret PIN). This, more or less, means that you have control over your funds, or at least that the site gets compromised any time, your funds will stay safe.
Block.io API for Developers
Block.io is relatively easy to use and is designed for use by both the end users (clients) and developers. It, therefore, comes with a ready-to-use API to assist developers in integrating the wallet and its features with their applications.
With their API, you can create wallet addresses instantly, check their balances, and withdraw coins from them whenever you want. It really makes life easier for developers that want to integrate blockchain transactions with their apps. At the moment developers' libraries are available in languages Ruby, NodeJS, PHP, and Python.
The full API documentation can be found here.
Did you enjoy this article? Please share any feedback about Block.io on our social networks. To join our member list and receive additional cryptocurrency news from us directly to your inbox, please subscribe to our newsletter by entering your email in the footer subscription box.